About Honsen Magnetics
Honsen Magnetics specializes in the production of permanent magnets, magnetic assemblies, and tailor-made magnetic solutions for various industries. Our team of experts is skilled in handling complex magnetic applications, as we collaborate closely with our clients to understand their specific project requirements. Through a full package of in-house services, we have complete control over costs and planning, ensuring the timely and budget-friendly delivery of all projects. And we could also offer retail packaging services.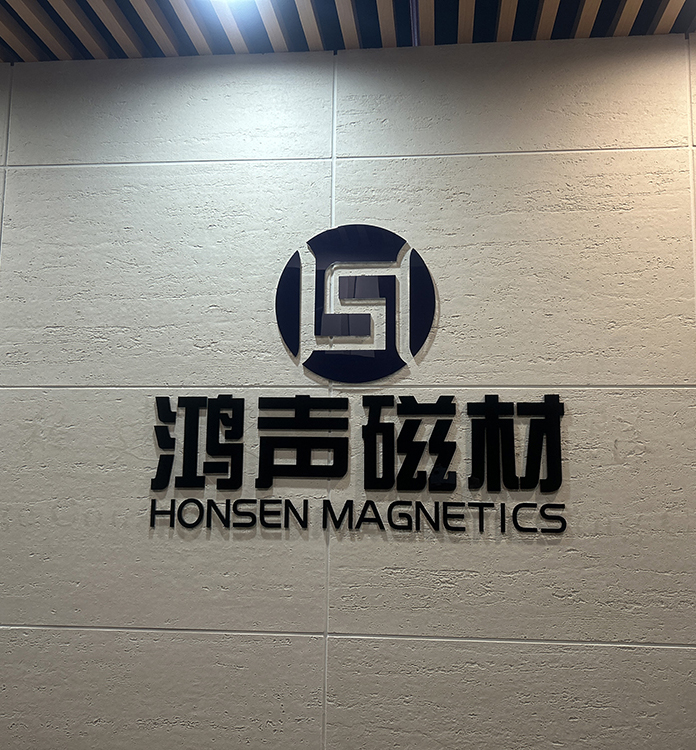 Honsen Magnetics is located in Ningbo, a professional magnetic material production base in China. This strategic geographic location offers us several advantages such as access to abundant resources, the ability to streamline the industrial chain, enhance operational efficiency, and reduce both time and costs. We have an experienced R & D team, unparalleled responsiveness, a dedicated quality team, and skilled production staff to continuously provide qualified products for customers at home and abroad.
We conduct strategic cooperation with stable material suppliers, which enables us to provide strong and safe support for the stable cost of rare earth raw materials. We have our own foundry and a CNC processing plant, so we can provide customers with magnetic application products with lower cost and more stable quality.
We have been devoting ourselves to providing customers with the most cutting-edge and professional magnetic application solutions. As a reliable partner, we also work with customers to jointly develop application solutions and we have expanded and built an independent production line for the project. As a result, we provide customers with more complete product lines and comprehensive solutions to enable them to become more competitive in the market.
At Honsen Magnetics, we are equipped to produce custom magnets and magnetic assemblies in both large volumes for just-in-time delivery and for small, unique projects. Our commitment goes beyond just manufacturing magnets – we prioritize delivering premium quality products with short lead times, resulting in cost reduction and customer satisfaction.
The Name Honsen Magnetics stands for "Honesty, Optimum, Novelty, Sincerity, Excellence, Necessity".

Our Advantages
*Professional Team, Emphasizing Details and Service Paramount
*Focus on Customer Concerns, and work for Customer Demand.
*Strong Processing Ability to Meet All Customer Requirements
*Prepare Inventory for Regular Products
*Strictly Control Delivery Time by using APQP, FMEA, SPC, PPAP, and MSA
*Strong R&D team, provide Perfect OEM&ODM Service
*Operate to ISO 9001, IATF 16949, ISO14001, ISO45001, REACH, and RoHS
*Complete Production Line from Machining, Assembling, Welding, Over Molding
*High Rate of Automation on Production & Inspection
*Skilled Workers & Continuous Improvement
*Professional Packaging for various Shipment
*Fast Shipping & Worldwide Delivery
*Serve ONE-STOP-SOLUTION ensure efficient & cost-effective purchasing
*Accept all kinds of payment methods
Why We Can Do Better
At Honsen Magnetics, we understand the significant impact that misunderstanding can have on the world. That's why we are committed to better understanding your needs and providing you with superior service. We believe that customers not only require high-quality products at competitive prices but also efficient communication throughout the process. This is something we have always strived to achieve.
As a leading supplier, Honsen Magnetics specializes in providing top-notch magnets and magnetic products for various industries including military, medical, high-reliability industrial, and commercial applications. We are well-known for effectively solving complex design problems, delivering consistent quality products, and ensuring timely delivery while maintaining competitive pricing.
Our main focus lies in the application, development, and production of exceptional magnetic products and systems, particularly in the field of permanent magnets. We are dedicated to research, development, and production, combining the skills of our specialized team with extensive interactions with our customers. This enables us to offer the finest permanent magnets, neodymium magnets, complex magnetic assemblies, magnetic devices, and expert application assistance for various markets including OEM, point-of-purchase, industrial, and retail.
Our aim is to provide you with not only high-quality products but also outstanding customer service, making sure your needs are fully understood and addressed.
Custom Magnets, Magnetic Assemblies
At Honsen Magnetics, we take great pride in our extensive range of capabilities, tailored specifically to meet the unique needs and requirements of our customers. Our state-of-the-art facility is equipped with advanced machinery and technology, enabling us to provide a wide array of manufacturing services.  Our cutting-edge cutting, grinding, wire-EDM, CNC machining, and injection molding capabilities allow us to create precise and intricate components with accuracy and efficiency. From intricate shapes to complex designs, we have the expertise to handle a diverse range of projects, ensuring that every product meets the exact specifications of our clients. We understand that every industry has distinct requirements, and we have the expertise to produce permanent magnets and magnetic assemblies that cater to those specific needs. Whether it's aerospace, automotive, medical, or any other industry application, we have the capabilities to develop magnets and assemblies that adhere to the highest standards and surpass our customers' expectations.

Controlled and Certified Suppliers
By partnering with audited and certified raw material suppliers, we ensure that our magnets are manufactured using only the highest quality and sustainable materials. At Honsen Magnetics, we take traceability seriously. We understand the importance of knowing the origin and journey of our magnets, as it not only assures quality but also represents our commitment to transparency and accountability. Through our meticulous tracking systems, we are able to provide comprehensive traceability information for all our magnets, allowing our customers to have complete confidence in the authenticity and reliability of our products.
Quality and safety are at the forefront of our operations. Our commitment to excellence starts with carefully selecting the finest materials and continues through every step of our manufacturing process. Each magnet goes through rigorous testing and inspection to ensure it meets our high standards for performance, durability, and safety. We actively seek feedback from our customers and continuously strive to improve our processes and products based on their input. We assure our customers that they are receiving top-notch magnet products that are reliable, safe, and of the highest quality. At Honsen Magnetics, we go above and beyond to ensure that quality and safety are adhered to from the source to the end product, fulfilling our promise to deliver excellence in every magnet we produce.
Our Team
At Honsen Magnetics, we believe that the key to our success lies in our ability to satisfy our customers and maintain excellent safety practices. However, our commitment to perfection doesn't stop there. We also prioritize the personal development of our workforce.
By creating a nurturing environment, we encourage our employees to grow both professionally and personally. We provide them with opportunities for training, skill enhancement, and career advancement.
We empower our workforce to reach their full potential. We recognize that investing in personal growth is vital for long-term success. As individuals within our organization develop their skills and knowledge, they become more valuable assets, contributing to the overall strength and competitiveness of our business.
By promoting personal development within our workforce, we not only lay the foundation for our own enduring success but also foster a culture of continuous improvement. Our commitment to satisfying customers and ensuring safety is complemented by our dedication to the growth and development of our employees. These pillars form the cornerstone of our business.

Call us today at 13567891907 or email sales@honsenmagnetics.com
The right magnetic specifications; The best quality and reliability; Monitored and after-sales guaranteed.